Despite this very challenging year, we've managed to polish our product and help our customers to accelerate their deliveries. Better than that, we had lots of feedback telling us we're on the right path. I am so proud of what the SourceLevel team has achieved that I want to share some of 2020's highlights.
Pull Request Metrics and Team's Analytics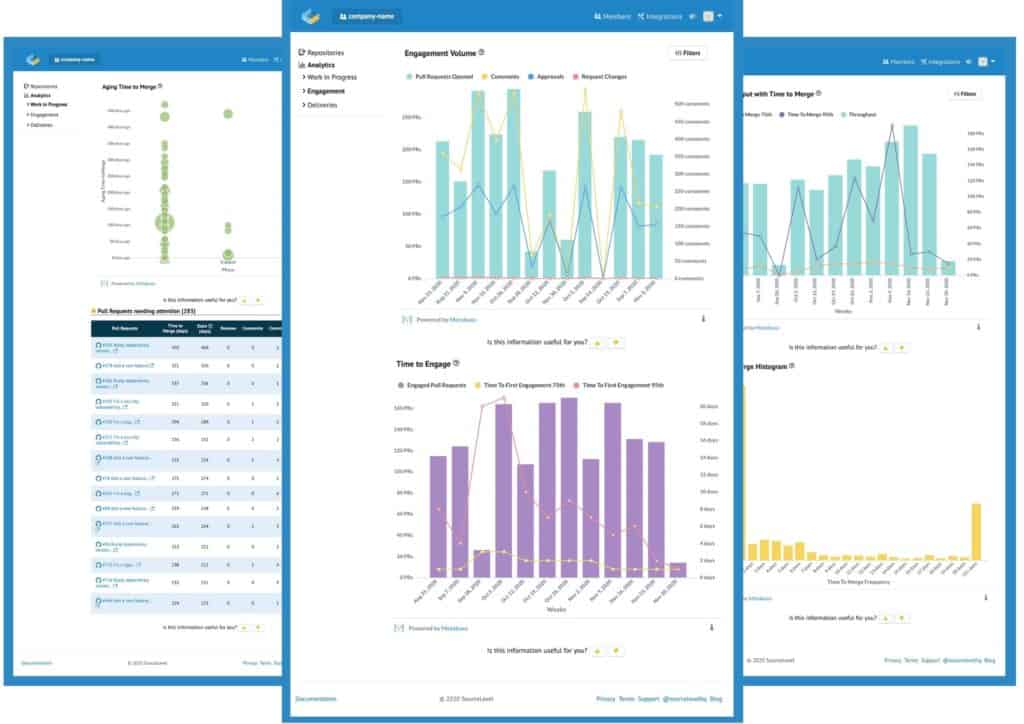 Could you imagine that last year we were only an automated code review tool? In January, we announced the Metrics for Engineering Teams and filters for teams. Over the year, our charts changed a bit.
You can currently find three main categories of charts, following the idea of adding observability to your processes. With SourceLevel, you can oversee the Work In Progress, team's engagement, and deliveries across all organization's repositories.
All the data can be filtered by teams so that managers can find who needs help fast and more straightforward. Learn more about them on our Engineering Metrics page.
GitLab full integration — Self-Managed in Beta!
During the year, we delivered a full integration with GitLab.com. Both tools, Automated Code Review and Engineering Metrics, integrate smoothly now. Sign up with your GitLab account and create an organization to start using our product!
We're extending our support for GitLab Self-Managed instances too. It's in Beta. If you're interested, get in touch!
Product Hunt Launch
In October, I wrote a blog post announcing that we launched SourceLevel in ProductHunt. We've already got many upvotes, and I am happy with the feedback. In the same article, I gave a sneak peek of what's yet to come for 2021 regarding the roadmap.
We plan to start measuring the commit to the deployment. It means we want to cover the full Engineering workflow. It'll turn SourceLevel into the perfect solution for providing State of DevOps' metrics, as it will provide two out of the most crucial measurements: Deploy Frequency (Throughput) and Lead Time for Changes.
GitHub Marketplace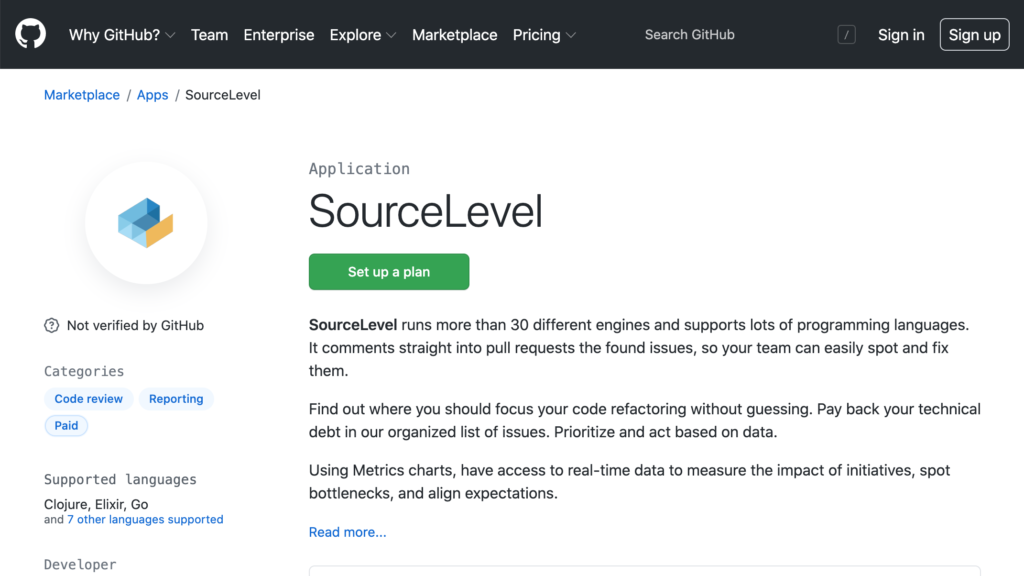 GitHub's approval for our tool to be part of their Marketplace was a significant milestone. We know some people prefer using it instead of setting up an account directly on SourceLevel. So we worked hard to integrate with their system entirely.
You can find more information on our GitHub Marketplace page.
What to expect from 2021?
As I already said, we'll keep polishing our product in 2021. As we're very agile, we don't have a robust roadmap for the whole year. However, we are very confident on these next steps:
Integrating with Slack. Slack is a very popular tool used by many companies. We want to share insights and vital data for our customers using this channel. We plan to ship daily and weekly reports, chart images, and many other features.
State of DevOps / Accelerate Metrics. We've noticed that the market is going in this direction. Both Lead Time for Change and Deploy Frequency are becoming the industry standard. We want to catch up and provide a full overview of the development workflow.
UX improvements. We'll work on a better onboarding flow and add the ability to navigate through the entities, such as commit, pull requests, and deploys. It'll help us in the task of making SourceLevel the perfect tool to trace all the steps of a given piece of code.
Count on us for a more data-driven 2021, and an even more robust solution for accelerating engineering teams with quality.
Feel free to leave us a comment on what you think!
Co-founder and CEO of SourceLevel. Previously co-founder of Plataformatec.
Loves to talk about software engineering, Elixir, coffee, mechanical keyboards, multitools and his 3 big dogs.
---